8 Facilities to Look for When Hiring a Meeting Room
Successful meetings are built on first impressions. The meeting room facilities at your disposal can make or break your event, so choosing a venue that offers the necessary amenities is essential.
A meeting room is so much more than just four walls: it's a world of opportunity for every attendee when utilised efficiently.
Taking it a step further with state-of-the-art meeting room facilities that don't break the bank is the true first prize. To that end, we've prepared this list of features to look out for when hiring a meeting room.
If you're looking for the highest-quality event possible, be sure to tick each of these things off your checklist:
1. Adaptable Meeting Spaces
If you want an adaptable meeting space, look out for facilities that can fit groups of various sizes. Whether you're after a meeting room for 1-to-1 scenarios like interviews, for presentations to sizeable groups or roundtable board meetings, choose a space that can flex to your needs. Visit it beforehand, if possible, to ensure you're happy.
Stand-up meetings are becoming increasingly popular in the corporate workplace. Find out more about the advantages of stand-up meetings here!
In the current social climate, you should also consider a venue with a COVID-secure workspace policy – this is essential, not only for health and safety but also for the peace of mind of your attendees.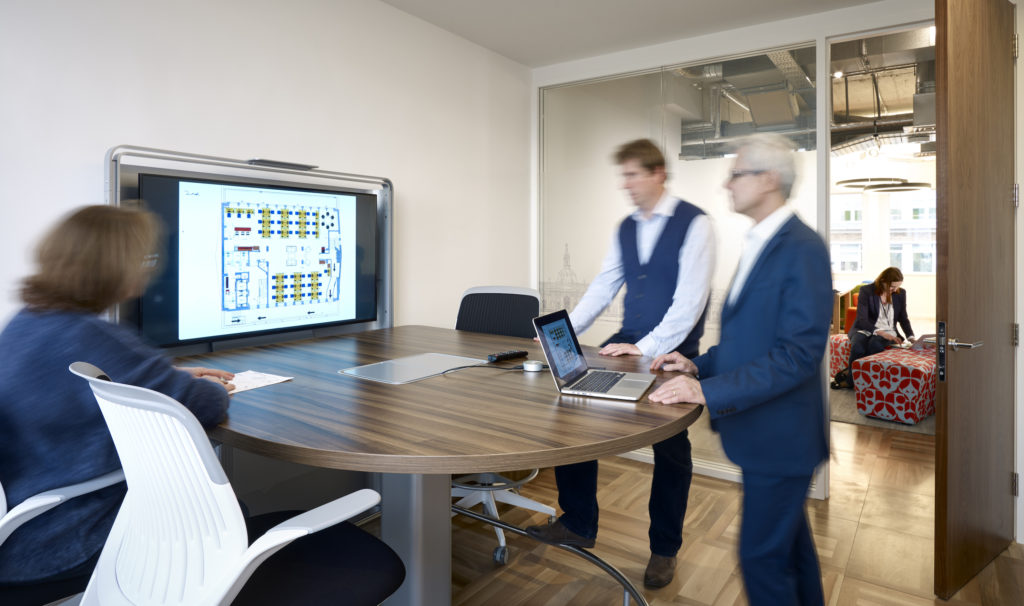 2. Comfortable Seating
For any meeting, sometimes it's the little things that get in the way of your attendees' enjoyment and engagement. Uncomfortable seating is one of those things, so ensure your venue has seating with lasting comfort no matter how long the event is due to run!
Whichever meeting room arrangement you're going for, comfortable seating is a necessity; it allows your attendees to focus on the important things without undue distractions.
Read our blog for more tips for surviving a long meeting.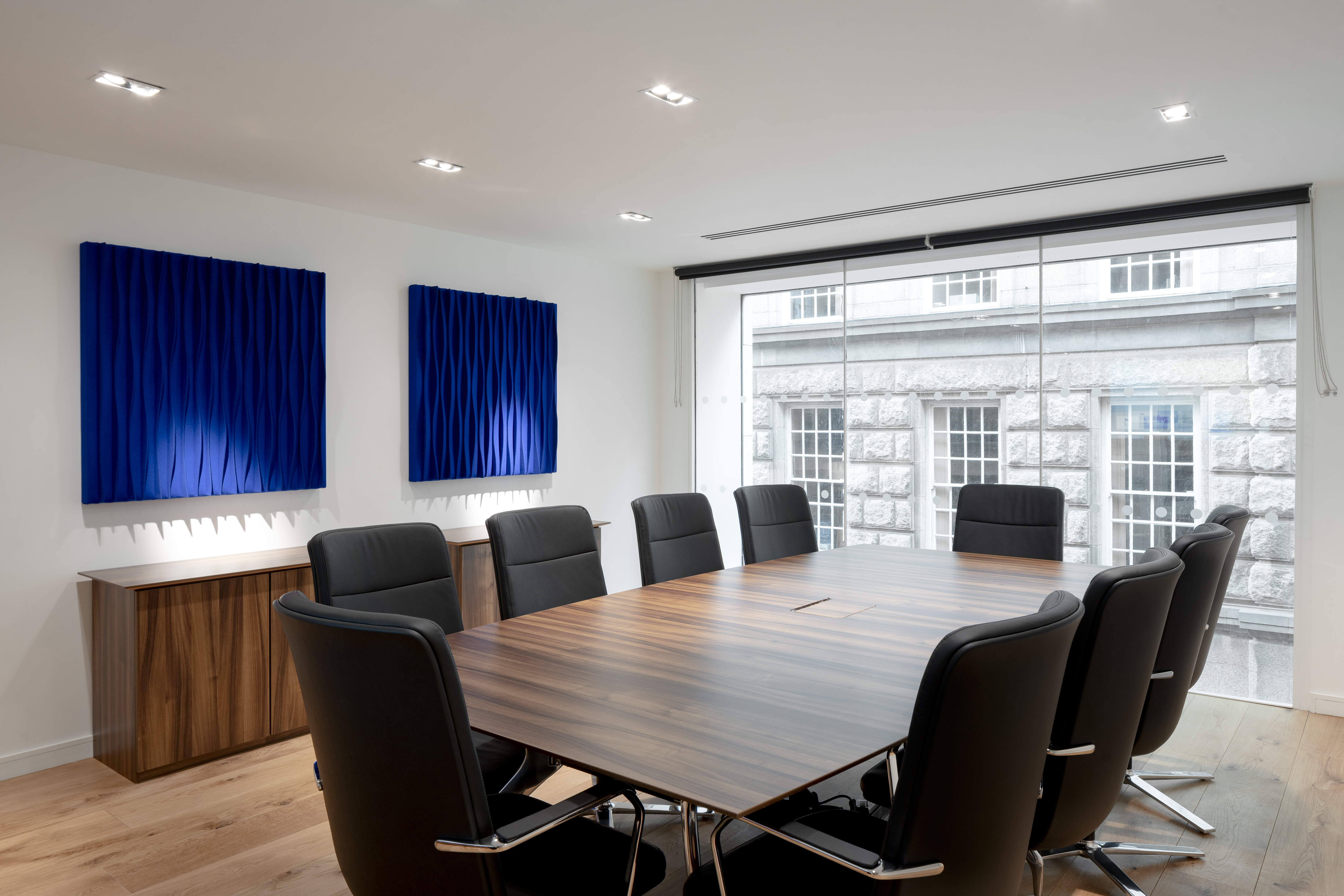 3. An Inspiring, Accessible Location
An attractive and accessible location will make it easier for attendees to find the venue and mitigate any hassle before your event has even begun. More importantly, ensure the venue is accessible for those with disabilities. If you are unsure about this, speak to the management team.
The trophy pick is a venue in a central hub. Chances are your attendees will be familiar with the area and so can find it more easily.
Us&Co  has meeting facilities in Central and East London and the heart of Dublin.
A location surrounded by attractive amenities, such as restaurants and other areas of interest, will likewise make a good impression, so bear this in mind.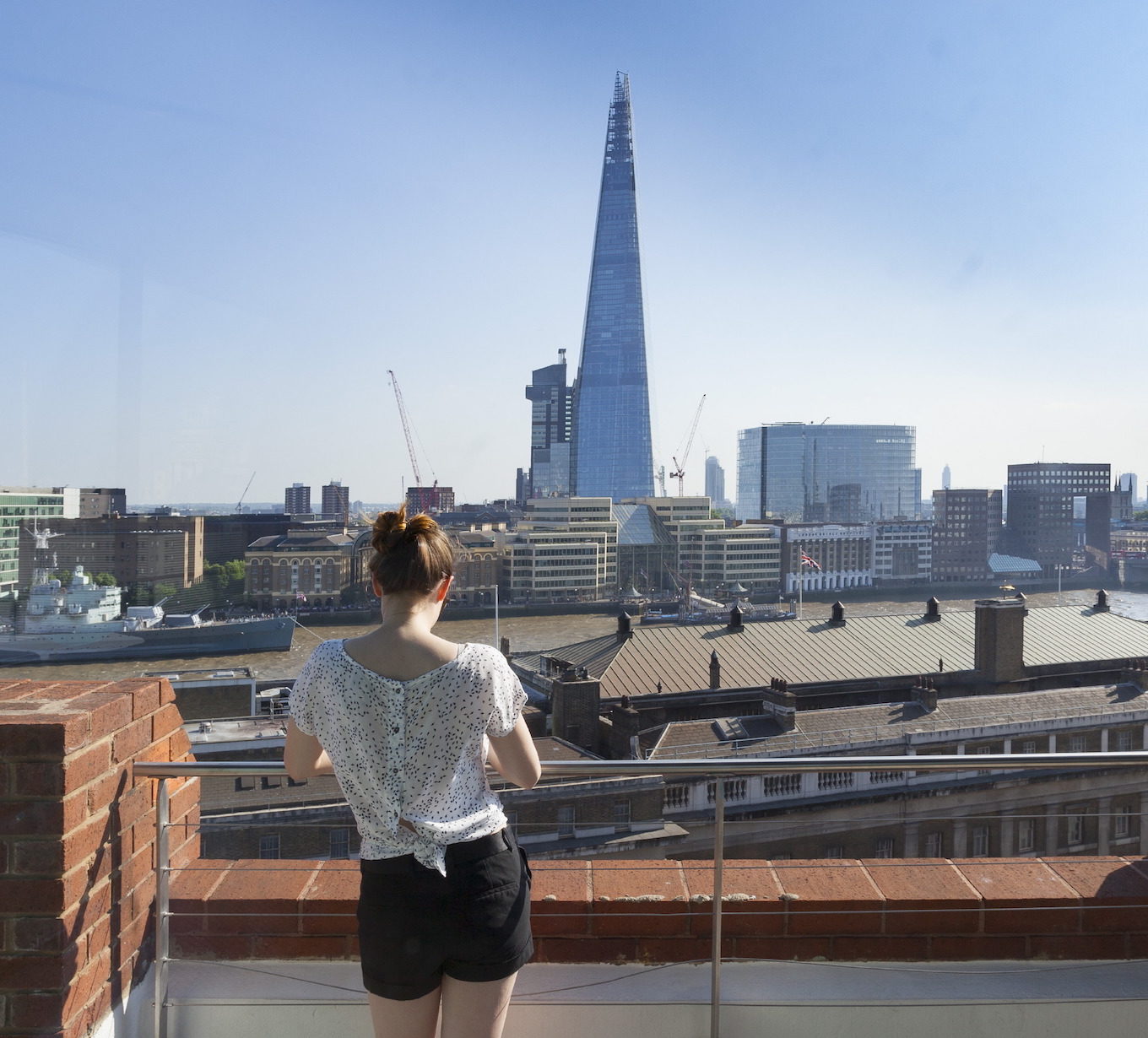 4. Breakout Spaces for Networking Opportunities
There's no substitute for face-to-face meetings. If the past two years have taught us anything, it's that we thrive on in-person interaction Choosing a space that facilitates this will elevate your meeting to no end, giving your group valuable networking opportunities as well.
An impactful event relies on more than just what goes on in the meeting room itself. Utilizing a meeting room facility that offers breakout spaces like an open-plan kitchen/lunch area will serve your attendees well as a decent networking space during breaks and between sessions.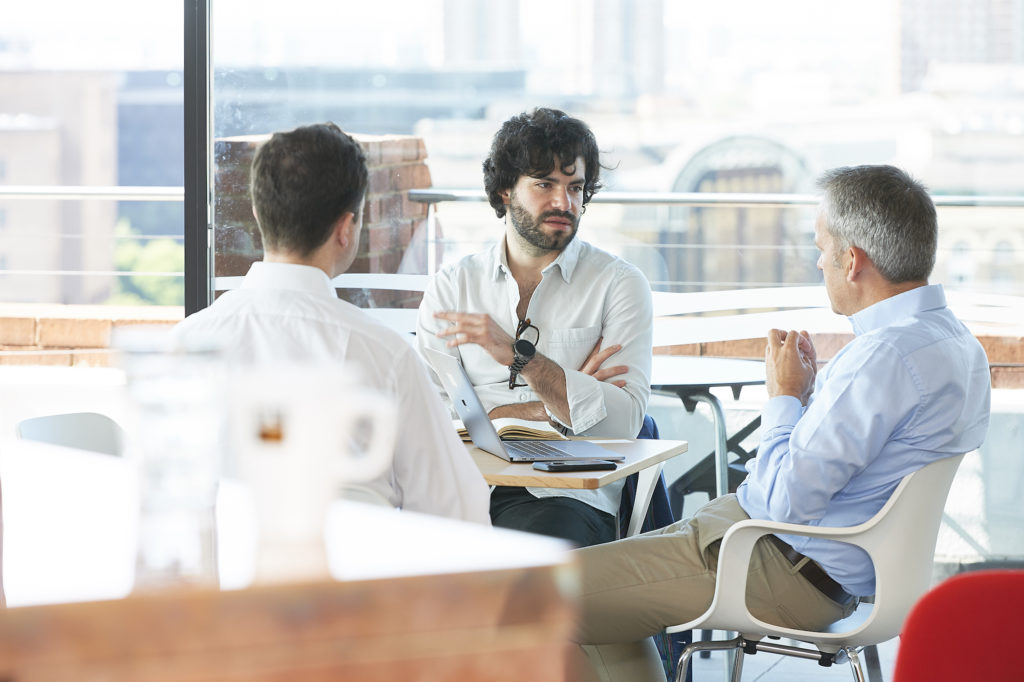 5. Fully Stocked Technology Suite
This is non-negotiable in the modern meeting room. Reliable technology that both engages users and maintains reliability throughout your meeting's runtime is vital for getting the most out of the event – and keeping your attendees invested.
Be sure to tick these things off your technology checklist in any prospective meeting venue:
Reliable, superfast Wi-Fi connectivity
Hassle-free presentation software
Integrated room speakers
Video conference facilities for virtual attendees
The necessary connectivity facilities, e.g. cables, ports, etc.
An on-hand in-house technician to help you get set up
Inefficient technology facilities can stop your meeting in its tracks, so to avoid any frustration, ensure you're happy that the included facilities are up to modern standards!
6. Catering Options at the Venue
If you're hosting an all-day or even half-day meeting, having catering options at the venue is a vital convenience. An in-house catering team offers a reliable alternative to sourcing food yourself on the day – simply let them know in advance what you want and at what time during the day. Thereafter you can put it out of your mind, allowing you to focus on other logistic considerations!
This works in tandem with giving attendees networking opportunities – food is a fantastic social catalyst after all, so ask the venue for a list of catering options and pick out the most appropriate options.
7. Adequate Parking Space
Ample parking becomes increasingly important the more attendees you have, so you'll want to be sure there's plenty of space for all your attendees beforehand.
Of course, a central and accessible location may mitigate the need for parking somewhat, especially in larger commercial hubs, but this is still a point worth considering and a potential contributor to attendee satisfaction.
8. A Reliable Venue Management Team
Finally, be sure to choose meeting facilities managed by a reliable, responsive, and adaptable team. All a venue's other facilities can be substantially elevated when handled by a management team that ensures your experience is as hassle-free as possible.
Be sure to discuss your requirements with the venue's management when enquiring about their meeting rooms to ensure all your needs are catered.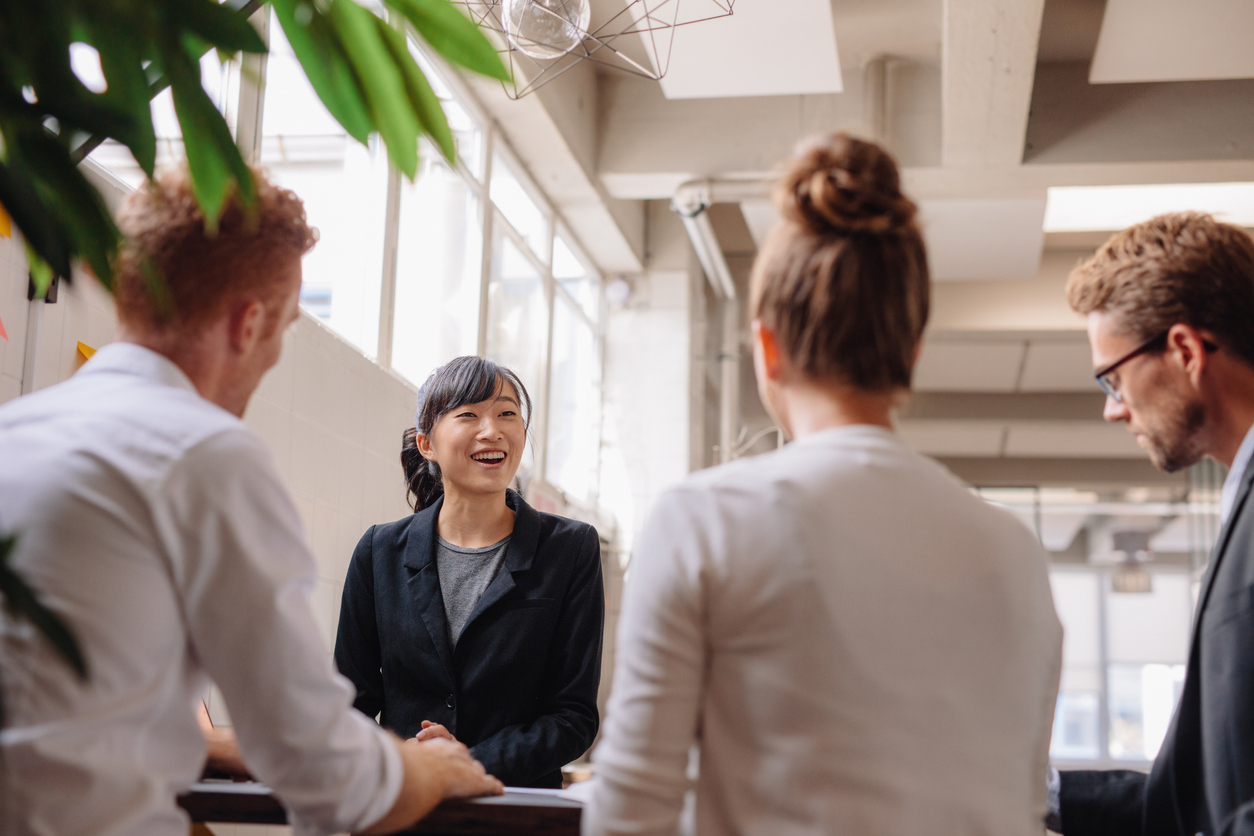 Explore Us & Co's Meeting Room Facilities in London and Dublin
Us & Co is a series of flexible co-working office spaces in London and Dublin. We're passionate about helping young and growing businesses find the perfect solution to their office space needs – and we offer a variety of meeting room facilities for rent at all of our locations.
If you'd like to find out more, get in touch with us – our team can talk you through your options for meeting room rental at our 3 locations: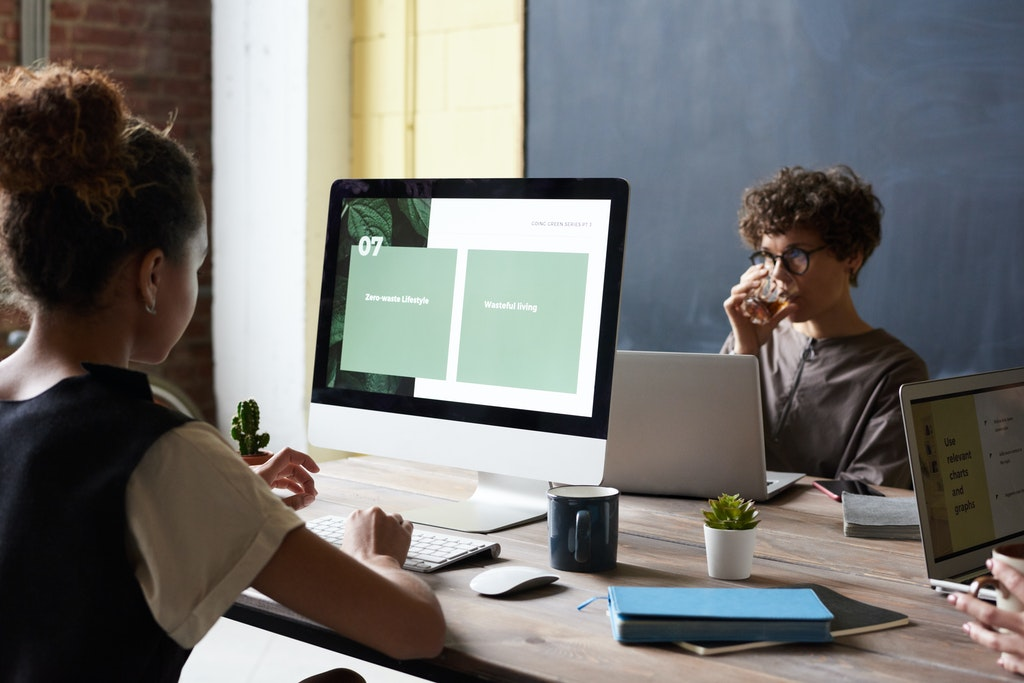 The pandemic has cast a cloud of uncertainty over many aspects of our lives. The rulebook has been thrown out the window; our home is now our office, the UEFA Euros 2020 is being played in 2021, and job interviews are now all predominantly online. Things we take for granted, such as the Olympics being held every 4 years, can be thrown to the wind as a luxury of a bygone era.
Nevertheless, things are not all doom and gloom. Even though there has been a marked increase in unemployment due to the pandemic, according to the Financial Times, "the UK Labour Market has begun to thaw" as recruiters see one of the strongest rebounds in permanent hiring in years. Ireland, cautiously optimistic, show signs of the following suit.
But what does this mean for job applicants? What new tricks do we have to learn to ace that job interview?
Thankfully, not much has changed on that front. Besides dialling into a video call from the comfort of your own home, you can rest assured that if you get the basics right, you have already built a solid foundation for any interview!
But don't take our word for it! We talked to Fiona Joyce, the Office Support Principal Consultant for Sigmar Recruitment, the largest organically grown recruitment consultancy in Ireland, who provided us with 3 of her top tips for an interview. This is what she had to say…
1:  Do Your Research
Heading into any interview, you should be fully aware of the role and what the organisation does. My best advice here would be that you should study the job specification well enough that you should be able to explain what the position is without needing to refer to the job spec.
When researching the organisation, you must study their website and search for any articles or announcements about them. A good rule of thumb is that you should talk for 90 seconds about the company. This doesn't mean talking about the company's entire history, but you do want to be able to demonstrate that you know who they are (key players), what they do (a brief overview), and their overall ethos and culture.
With this company research – drop it in where you can. Show off your homework! Passion and Enthusiasm for the company and role can be a deciding factor between two people. Remember, they are hiring a colleague as well as an employee!
Tip 2: Know Your CV
It sounds like a no-brainer, but it's still a piece that trips a lot of people up!
When speaking about your CV, you should know your dates, past employment, and role duties so well that if all copies of your CV disappeared tomorrow, you could re-write it from scratch.
Many employers will ask you to take them through your CV. The best way to run through your CV is to go through these 3 easy steps:
1. Where you worked and when.
2. Your job title and a brief overview of your core duties – give 3 – 5 points on what you did there and skills you learned in the process.
3. Why you left this job – again, a brief line to explain why you left.
Follow this structure as you talk through all of your roles, and you should be able to get through your CV run-through quickly and concisely. The interviewer will then ask for more information on areas of specific interest, and this is when you should go into more detail.
It's imperative that if it's on the CV, you need to be able to talk about it! I've often interviewed people who have experience on their CV from ten or more years ago, and when asked about it, I've been told, "I can't fully remember; it's so long ago!". This will damage your chances in an interview. The experience that the employer is asking about may be of particular importance or relevance to the position that you have applied to, which is why they will want to know more about it. You have one chance to grab this job, so don't waste it by not putting in the work on (re)learning the CV.
With video interviews being the norm these days, it is easier for you to have your notes nearby but out of sight. However, it's important not to spend too much time looking at them during your interview. I've interviewed candidates over video daily for the last year, and I quickly noticed that you could very easily tell when someone was reading their CV off the screen versus reciting it from memory. An interviewer will want to see that you are present, engaging, and aware of your experience. Avoid reading your CV, as it will pull attention away from you when you break eye contact with the interviewer.
Tip 3: Be Passionate and Honest
When asked why you have applied to this role, be honest. Every hiring manager out there has heard the words, "I'm looking for a new challenge"! Give them a reason that's personal, original, and specific.
Many people feel the need to sugar-coat their reason for leaving, but it's perfectly acceptable to tell the truth, and say, "I've learned all I can in my current role", or "It's no longer an industry that I'm passionate about". This does not reflect badly on anyone; it's just a genuine reason for wanting a change.
This may link back to Tip 1., but while you're looking into the organisation, you should identify things about the organisation that appeals to you, the reasons why they appeal to you, and why you genuinely want to work with them. Don't be afraid to tell your interviewer, and don't be shy in using emotive language such as "I love the fact that…" or "What really attracted me to…" or even "What I found to be very impressive is…".
When giving examples, give them from the point of view of already being in the role, doing the job. This lets the interviewer see that you are already thinking from the perspective of their new employee. For example, you could ask a question like, "When I am running this report, where is the data coming from?". It's a question that shows your understanding of the role and engagement in the interview process and allows the interviewer to hear that you're already envisioning yourself on their team!
---
Get in touch with Us&Co today:
 Stratford, East London Flexible Workspace, 11 Burford Road, E15
Phone us: 020 3102 4010
Please email us: enquiries@usandco.com.
London, Monument Flexible Workspace, 7 Harp Lane, EC3R 6DP
Phone us:020 3102 4010
Please email us: enquiries@usandco.com.
Why the Benefits of Flexible Working are a Win-Win for Employers and Employees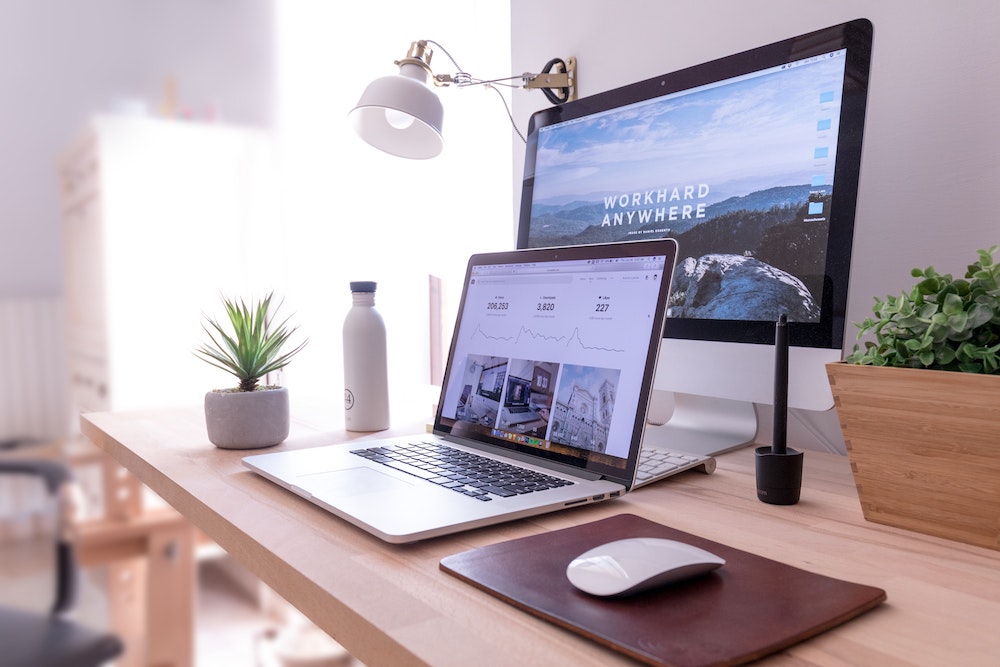 As we draw closer to the finish line of this pandemic, flexible working hangs in the balance. Now that we have seen that flexible working is manageable but successful for so many, we should see an uptick in companies offering flexible working. However, according to the Chartered Institute of Personnel and Development (CIPD), two-thirds of employers are not willing to introduce new types of flexible working; "research… showed that only three in 10 employers (30 per cent) are looking to introduce new types of flexible working (excluding working from home) over the next year". Though this statistic may appear to signal the end of flexible working, the opposite is true. It's undeniable that the way we work has changed forever. The truth is the benefits of flexible working are a win-win for employers and employees alike. Flexible working is here, and it's here to stay.
---
But what is "Flexible Working"?
Flexible working describes a working arrangement that provides flexibility to how long, where, when and/or what time you work, away from your existing working arrangement such as the traditional 9 to 5.  Flexible working comes in many different shapes and sizes, from Remote working to Job Sharing and is very much adaptable to the individual.
But what benefits can flexible working provide employers and employees? Let's find out.
---
Interested in having a flexible workforce? Why not have a flexible workspace too! Get in touch with the Us&Co team to discuss a flexible office membership at our London Monument, London Stratford or Dublin workspaces.
---
Flexible working benefits for businesses
Though companies may be reluctant to implement flexible working in the long-term due to a hesitancy to restructure their operational model, they need to consider future-proofing their business.  You can develop a myriad of reasons not to push the boat out, but you'll soon find yourself in shallow waters. The way we work has changed, and it has changed for the better. The benefits of flexible working for employers will outweigh any negatives that may appear to rise to the surface. For instance, by adopting it now, you can adapt much faster than others to the nuances involved and reap these subsequent benefits.
---
Reduced Costs
By implementing flexible working, you can review your costs and realise you can make significant savings by downsizing your real estate footprint. This will not only reduce rent but also reduce your IT requirement, furniture expenditure and utilities. You can also reduce costs by using a flexible service provider who offers short-term flexible leases, which avoids the need for CapEx.
---
Less Presenteeism & Absenteeism
According to the Centre of Mental Health 2017 report, presenteeism (reduced productivity at work due to being ill) cost the UK £21.2 billion per annum. By offering flexible working options, you could reduce your individual costs and better your employee's mental health. The same is true for absenteeism as the report found that absences due to sickness cost the UK £10.6 billion each year while a further £3.1 billion was spent on staff turnover due to poor mental health alone. Flexible working, be it hybrid working, part-time or job sharing, can greatly benefit your employee's mental health, which will benefit productivity and costs.
---
Productivity
Flexibility breeds creativity and, in doing so, inspires productivity in employees. Over the last year, employers have found that flexible working (working from home) didn't cause a drop in productivity, and indeed some found an increase in productivity. According to a survey carried out by the CIPD, 71% of employers found that working from home has either boosted or made no difference to productivity.
---
Staff Retention & Morale
By providing flexible working options to your staff, you will gain company loyalty through your employees, who will be less likely to move jobs. Employees have many various personal responsibilities, and being allowed the flexibility of work to maintain a good work/life balance will create good morale and attract new talent. Therefore, employers who offer flexible working arrangements have a substantial advantage in the recruiting process and have access to a larger talent pool.
---
Flexible working benefits for Employees
As we now know, employers can benefit greatly from flexible working, but what really are the benefits of flexible working for employees? The reality is that employees have been calling for flexible working arrangements since the invention of the personal computer. And now over a year into the pandemic, we can see what benefits employees can reap from flexible working, which is evident from a study done by academics at Cardiff University and the University of Southampton who found that nearly 90% of all those who have worked more flexibly during the pandemic wish to do so once it is over.
---
Better Work/Life Balance
Flexible working provides staff with the time and space to adapt to their own personal lives, such as parental and familial responsibilities. According to CIPD, 20% of working people are stressed due to family relationships, while over half of those who flexibly work felt it is a good way to achieve a good work/life balance. Allowing employees this much-needed flexibility can help reduce their stress levels, resulting in a more productive and happier workforce.
---
Higher Job Satisfaction
Giving employees the autonomy to manage their own working hours and schedule can have tremendous benefits on their job satisfaction. People work better when they can choose when and where they work. It improves their focus and productivity. Flexible working also can inspire the entrepreneurial spirit in employees, which can be very beneficial for their confidence and overall job satisfaction. The autonomy of flexible working can also decrease employee burnout as they will be comfortable taking time-out to recoup.
---
Reduced Expenditure
It might seem like a small and obvious benefit, but the lack of commute not only does wonders for your mental health but also saves you money. According to a survey carried out by PR Agency Tyto, the average London commuter spends  £5,114 per year. This does not include the intangible mental cost of unpaid hours travelling in and out of work. By flexibly working, be it hybrid or working remotely full time, you will reduce the cost of your commute considerably. When you consider not having to buy lunches or pay for childcare, the savings increase exponentially.
Of course, there can be some disadvantages to flexible working.  Some, while flexibly working, experience a stigma called flexism – where staff are discriminated against due to flexibly performing their roles.  Nevertheless, any drawback like this one is more indicative of organisational problems than flexible working itself.  Flexible working is very much on the rise if not becoming the norm. The true benefits of which have not yet been truly realised.
---
Get in touch with Us&Co today:
 Stratford, East London Flexible Workspace, 11 Burford Road, E15
Phone us: 020 3102 4010
Please email us: enquiries@usandco.com.
London, Monument Flexible Workspace, 7 Harp Lane, EC3R 6DP
Phone us:020 3102 4010
Please email us: enquiries@usandco.com.
Coworking Day Pass: The benefits of renting a desk for the day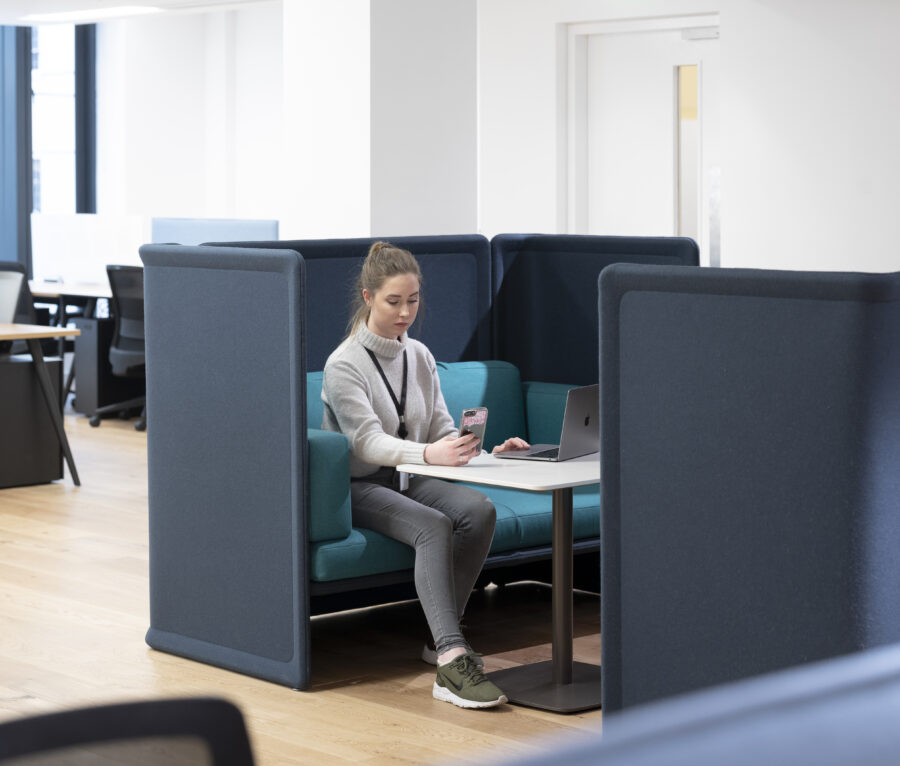 For many years, remote workers were looked upon in envy by their traditional office worker counterparts. Shunned for their flexibility and avoidance of the classical working day. Now, in 2021 many of us have experienced what life is like working remotely, though more accurately, we found out what life is like to work from home. Although there are a number of benefits from working from home (WFH), the separation between work and personal life has become increasingly blurred. However, the negatives of working from home cannot be equated to remote working. We need to move beyond the notion that remote work equals "working from home," the options for how to spend your day are pretty endless.
---
Coworking day passes revolutionised how the remote working community operate. Remote workers no longer have to resign themselves to finding a "quiet" corner in a café with poor to average internet speed. All they need to do is go online and find the nearest coworking company and book a day pass. For instance, at Us&Co, a day pass gives full access during opening hours to the coworking area, providing a desk, high-speed internet, access to phone booths, and self-service tea stations with bean-to-cup coffee, all for a nominal fee.
Interested in trying out coworking day pass yourself? Get in touch with the Us&Co team to discuss a day pass or membership at our London Monument, London Stratford or Dublin workspaces.
---
Why use a day pass?
It comes as no surprise that we might be feeling the negative effects of WFH for over a year. Coworking day passes are the solution! Shrug off that feeling of lethargy and start trialling coworking spaces around your area. A great benefit of renting a desk for the day is that it's like shoe shopping; you try one on until you find one that fits, there's no commitment. Especially with the reopening of many cafés, you might feel a bit reticent about overcrowding. Us&Co prides itself on being fully COVID-secure, operating social distancing throughout their centres.
---
How do day passes work?
Day passes couldn't be simpler! All you need to do is go online to your desired coworking space's website, book the day you wish to work, and then on the day, announce yourself at reception, and you're set for the day! Alternatively, call up the coworking space, and their friendly staff will guide you through the booking process over the phone. The only difference between a monthly member and a day pass is that the member has full 24-hour access to the building. Allowing them to come and go as they please. Day passers are limited to the opening hours of the co-working centre.
---
Who would benefit from using a day pass?
In truth, anyone would benefit from using a day pass. If you are in need of a desk for the day, in a productive work environment among like-minded individuals, then a day pass is for you. Specifically, day passes tend to be used by remote workers and freelancers, though by no means limited to those two groups. Entrepreneurs and small start-ups also avail of coworking day passes, as the small price and non-committal nature of the day pass allow you to carry out your own market research. If you travel a lot for work, coworking spaces can become a second office for some, allowing you to have an office away from the office.
---
Productivity
If needs be, cafés can be used in-a-pinch, but they're not the best places to encourage productivity. Coworking spaces strive to provide a work environment that not only facilitates creativity but enhances productivity. Day passes allow you to "plug in" to the productive atmosphere fostered by coworking spaces. Working from your kitchen table for a year not only puts a strain on your back but also on your productivity.  Our homes were never intended to be used as offices. You may be surprised to hear, but poor lighting, air quality and lack of temperature control will have a negative impact on your productivity. Us&Co centres were purpose-built for productivity in mind, with lots of natural light, intuitive temperature and airflow regulation.
---
Cost-Effective
Time is money! You can't spend half the day searching for that "free" elusive corner that ticks all the "conducive workspace" boxes. Paying a small fee that provides all your requirements for the day is a no-brainer. Coworking day passes exist to make your life easier.
---
Networking & Collaboration
Working from home for the past year has really highlighted our need for face-to-face interaction. Coworking spaces are a great place to casually network with people in other industries facilitating new organic working relationships.  Day passes are a great way to meet like-minded people due to the very nature of coworking spaces.  Meeting new people every day tends to incite new streams of thought, opening up new perspectives and ideas, which in turn motivates productivity.
---
Interested in a day pass or more?
Experience Us&Co's professional coworking spaces with a day pass. Why not try our other flexible memberships such as Hot and Fixed desks or rent out meeting rooms in London and Dublin. We pride ourselves on creating a working atmosphere in which budding businesses, SMEs and individuals can thrive and grow.
Our Locations:
– London Stratford co-working space, 11 Burford Road
Phone us: 020 3102 4010 | Email us: enquiries@usandco.com
– London Monument co-working space, 7 Harp Lane
Phone us:020 3102 4010 | Email us: enquiries@usandco.com
5 Reasons Why COVID-secure Workspaces Are Essential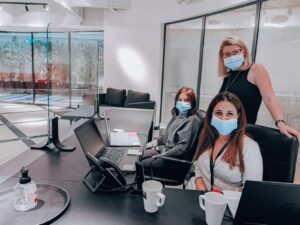 The simple truth is that the continuing pandemic has altered the way we work for the foreseeable future. Many businesses, taken unawares by the pandemic back in March 2020, were required to have their staff work from home ('WFH'). A year on, businesses have now permanently implemented a WFH option, seeing it as an opportunity to review rental costs by downsizing and offering more flexible terms to their employees. Nevertheless, even though vaccines are beginning to be rolled out, we are all, in one way or another, contending with the very real effects of the "Silent Pandemic" of professional and social isolation.
Fortunately, when the first lockdown lifted, many serviced office providers implemented measures to make their workspaces COVID secure, thereby offering their members a reprieve from working from home. Us&Co, for instance, have created COVID-secure workspaces without sacrificing their ethos of fostering an environment of privacy while providing a space for natural collaboration.
This article will endeavour to highlight the main reasons why COVID-secure workspaces are essential for the future of work while dispelling any anxieties you might have about returning to the office
1. Hassle-free Luxury
Even though it falls to everyone to maintain COVID security, businesses are generally left carrying the brunt of the responsibility to provide a safe space for their employees. COVID-secure workspaces like Us&Co take that burden away by enhancing their cleaning regime, increasing airflow, and installing hand-sanitiser stations in strategic and convenient locations throughout their centres. Signage is also displayed to direct traffic flow, and furniture has been removed to allow for social distancing. Us&Co also goes one step further by commissioning anti-bacterial fogging (through the use of a similar product employed by the NHS) of all common and breakout areas to ensure its members are safe from the virus when working from their centres.
2.Professional and Social Isolation
Since the increase of remote working, there have been concerns regarding the loneliness that inevitably comes with being separated from your team-mates. These anxieties, however, are now heightened due to the pandemic. Professional isolation is not just a feeling of loneliness; it is a three-headed beast. When WFH, you tend to lose out on key "resources" such as IT or HR help; "opportunities" as you tend to be out of mind when you are out of sight; and arguably most importantly, "development" as you are stuck in your echo chamber, unstimulated by the success of others. Team-engagement relates positively to performance. COVID-secure workspaces like Us&Co nurture informal conversations and shared experiences which, in turn, facilitates team-engagement and decreases feelings of professional and social isolation.
3.Productivity
WFH not only makes our work more challenging by the very fact that our home environments are not conducive to team-engagement but also impacts negatively on our productivity. Needless to say, our homes were not designed for 9-5 office work. Poor lighting, air quality, temperature, and furniture all negatively affect productivity. Workspaces such as Us&Co are designed to enhance and inspire productivity with lots of natural light, intuitive temperature and airflow regulation and comfortable ergonomic chairs.
4.Private meetings rooms
Many co-working brands offer private bookable meeting rooms specially designed to facilitate team engagement. Us&Co have introduced a ½ capacity rule to ensure you can reconnect and work face-to-face with your team while also ensuring COVID safety. Each room is sanitised before and after every use to prevent any transmission. The rooms are also installed with sound-proofing panels to stop your conversation from being overheard. Click here to view our meeting rooms
5.Seamless Connectivity
Co-working spaces have made it a priority to provide their members with a secure, fast internet connection. For instance, Us&Co members have access to super-fast and highly secure Wi-Fi, the cost of which is fully included in the up-front membership fees meaning that members can host HQ video calls with confidence.
---
Looking for your next flexible workspace?
Us&Co offers professional co-working (hot desks, fixed desks, private offices, meeting rooms and event venue hire) in London Monument, Stratford East London and Dublin, St Stephens Green. We pride ourselves on creating a working atmosphere in which growing businesses, SMEs and individuals can thrive and grow. Get in touch with the Us&Co team today:
London Monument | Co-Working and Offices Space, 7 Harp Lane EC3R 6DP
Phone us: 0203 102 4010
Stratford East London | Co-Working and Offices Space 11 Burford Road E15 2ST
Phone us:0203 102 4010
Why use the tube when you can cycle to work!?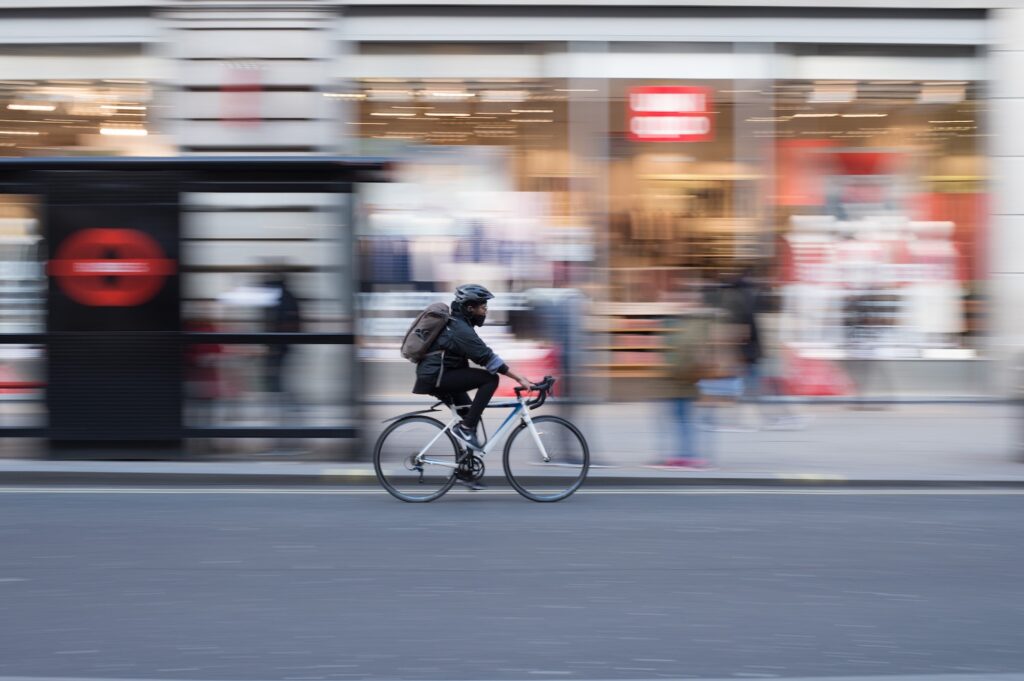 Why use the tube when you can cycle to work!?
Over the past few years, we have seen an exponential increase in the number of commuters cycling to work. Since restrictions were put in place on public transport at the start of the pandemic,  there has been a significant rise in cyclists across the capital.
Many commuters were apprehensive and intimidated about the dangers of cycling on busy multi-lane highways. However, life for a cyclist is now a calmer one with new and improved cycle-lanes. Cycle-superhighways and quiet-ways have connected all four corners of London, making it easier and vastly safer to navigate through London's busy city centre.
---
TFL are continuing to create safe routes for pedestrians and cyclists alike in their most recent Streetspace scheme. This new scheme endeavours to help manage the pandemic by creating more cycle lanes and broader pavements so that commuters can maintain social distancing. For instance, in the City of London around many of our centres, roads from Holborn to Aldgate are seeing significant cycling improvements. Our centres are now easily accessible by bike because of these new developments with several quiet-ways and cycle superhighways situated right on our centre's doorsteps.
---
You might be thinking, "This is all well and good, but what if I don't own a bike?" The answer is a simple one; hire a bike using the Bike Sharing Scheme! There are two different versions of bike hire across London, the docking station and the dockless bike scheme.
Here are a few examples:
Santander Cycles are the original, official London bike hire scheme operated by TFL. This scheme has been operational since 2010 and offers over 11,500 bikes with over 750 docking stations across London with several docking stations in walking distance of our centres. Hiring a Santander Cycle costs only £2 for unlimited journeys for up 30 minutes. All you need to do is either download the app or go to a docking station terminal with your bank card, and off you go when you finish your journey, alight from the bike and dock it into the nearest docking station at your destination.
Mobike arrived in the London Market in 2017 and operates under a station-free system. To use Mobike's service, download the app, find the nearest bike to you, scan the QR code, and you're away. The app runs on a top-up system, and 'pay-as-you-go' rides calculated depending on the amount of time you ride. The simplicity of dockless bike hires is that you can lock your bike anywhere. Just slide the lock across the bike and wait for the app to acknowledge that you have ended your trip.
Jump, formerly part of Uber, now recently acquired by Lime is back on the streets of London. An electrically assisted bike known as pedelecs; these bikes will take most of the burden off your legs. For now, Jump still has the ease of use of being a part of Uber's app. As most Londoners will already have the Uber app downloaded, all you need to do is switch from 'Trip' to 'Bike' to find the nearest available bike. Again, to unlock the bike, scan the QR code. Jump also has the feature of reserving a bike for 30 minutes, which no other bike hire app offers. However, Jump is one of the pricier options with a cost of £1 to unlock and 15p for every minute thereafter.
The bike-sharing scheme is excellent for those who live in the City or commute by train into a mainline station. It can be a cost-effective way of getting around while keeping physically and mentally healthy. Not only does cycling have significant benefits to our mental health, but it is also a great way to avoid transmitting COVID-19 on public transport as you will now no longer have to be wary of overcrowding on tubes.
---
Get in touch with Us&Co today:
London Stratford Flexible Workspace, 11 Burford Road
Phone us: 020 3102 4010
Please email us: enquiries@usandco.com.
London Monument Flexible Workspace, 7 Harp Lane
Phone us:020 3102 4010
Please email us: enquiries@usandco.com.
Flexible Office Memberships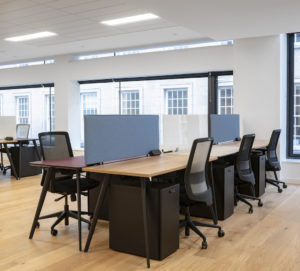 Us&Co are now offering Flexible Office Memberships– flexible solutions adapted to the new ways of working. If you and your team will only be using the office for a set number of days why pay for a full-time office agreement? With our Flexible Office Membership, you only pay for the days you use.
The same goes for the size of the office- if your staff will attend the office and work from home on alternate days, downsize to a smaller private office suitable for your needs but still retain the same number of team members who have access to the office.
---
While home working is not a new trend, there has been an exponential increase in 2020, due to the global pandemic. The past several months have compelled businesses to evaluate their office costs with many contemplating the necessity of having an office space at all. Though we will see large and small companies, decentralising their base of operations and incorporating remote working into company practices, the majority of businesses will need to maintain some form of centralised office space. According to a survey carried out by Hubble HQ of 1,000 employees from various companies, 70% said they had a positive experience working from home, but 71% of those surveyed believed their company should retain an office space of some sort.
---
Nevertheless, with restrictions still in place for the medium term and with greater percentages of team members working from home, the way offices are used will change. Companies which are splitting their teams and placing them on rotation throughout the week may be left with an office space unnecessarily large and costly for their needs. Serviced office providers like Us&Co are creating solutions for companies in these situations. Working in the office on alternate days, you can take a five person office and Us&Co will issue you ten access passes or one hundred passes if you take a large fifty-person office. Us&Co's Flexible Office Membership can help businesses cut rental costs in half and still allow them to have an office presence.
---
Us&Co prides itself on tailored solutions. The flexibility of this membership can be adapted to the specific needs of each company. For instance, if you need an office one day a week, you only pay for that day. If you require three days per week or even a week per month, Us&Co can adjust the plan to suit your requirements. With Us&Co's Flexible Office Membership, you no longer have to worry about the cost of an unused office, you pay for the space you use on the days that you need it.
---
Us&Co provides an all-inclusive solution without a long-term commitment – a membership can be just three months. You avoid the need for capex and the hassle of setting up and managing an office: ordering office furniture, organising a cleaning service, sourcing and paying suppliers, managing the Wi-Fi and providing refreshments for employees – it's all done for you. The offices have been fully equipped to be Covid19-secure and members benefit from spacious break-out spaces and meeting rooms which are available for hire as needed. Us&Co allows companies to try out their new ways of working without potentially abortive expenditure and commitment.
---
Get in touch with Us&Co today:
London Stratford co-working space, 11 Burford Road
Phone us: 020 3102 4010
Email us: enquiries@usandco.com
London Monument co-working space, 7 Harp Lane
Phone us:020 3102 4010
Email us: enquiries@usandco.com
Finding the Right Workplace Solution Post COVID-19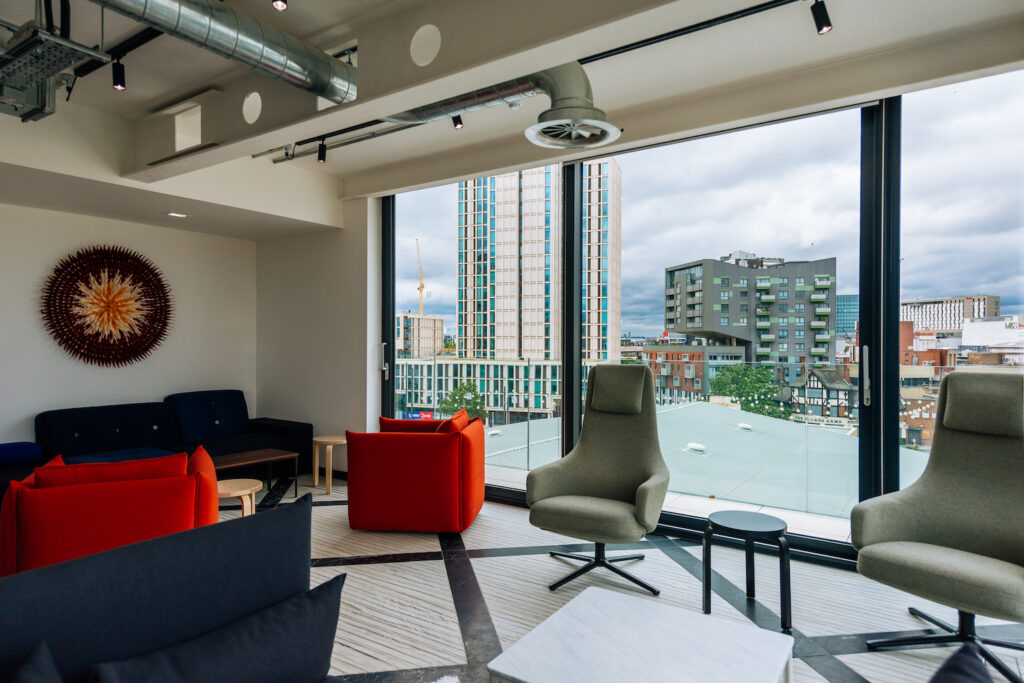 Due to COVID-19, the future of the traditional workplace is uncertain. With many businesses now faced with unforeseen difficulties, namely creating socially distanced zones in the offices for employees and providing flexible working options. The need for more usable, flexible space has become of utmost importance.
In light of the global crisis, many companies are now offering flexible or remote working to their employees. The last few months have shown us if nothing else, that businesses can adapt.
---
But what does this to mean for the traditional workplace? 
In a recent survey done by Hubble HQ, 70% of office employees had a positive experience working from home with many choosing to work from home in the future. However, the study indicated that those in favour of working remotely were aged 41 years or older meaning the younger generation preferred the traditional office environment.
Even so, the survey showed that regardless of age, all office workers found they missed face to face meetings with clients and colleagues. At Us&Co we have a range of meeting rooms available to hire by the hour.
Due to this uptick in remote working, 47% of companies globally are planning to make remote working a permanent option, as shown in a study by PWC. For instance, chief executives from Barclays and WPP are looking into a de-centralised approach to working. Nevertheless, after the pandemic, many workers will continue to work flexibly by splitting their time between home and the office.
---
Office De-Densification
For large companies, this new trend will help navigate the de-densification of office space. Following a return to work, companies may need to de-densify or use a staff rotation method by splitting their workforce into teams. Considering all businesses were under-prepared at the start of the year, many companies are organising for all eventualities. With the likelihood of the pandemic returning, and in turn the restrictions, many companies will be implementing social distancing measures by ensuring there is enough space for employees. By using a staff rotation method, they help certify their office is de-densified. Some companies may need temporary office space, with complete flexibility and without commitments to accommodate the remaining workforce.
In doing so, they need a flexible solution away from the traditional leases.  Book a tour of a private office space here.
---
Flexible Terms
Businesses, in these uncertain times, will be reluctant to sign a long lease. Being able to have the flexibility to shrink or expand the business when necessary is hampered by the traditional long leases of 3 years or more. Serviced office and co-working spaces deliver the perfect solution for business moving towards short to medium term flexible contracts.
For large or small businesses, serviced office providers offer this needed flexibility. Also, the flexibility of working in a serviced office space is that all utilities and amenities are all included in the monthly licence fee. This takes the hassle out of ordering office furniture, organising a cleaning service, setting up bills, WiFi or providing refreshments for your employees. Find out more about Us&Co's private offices.
---
Coworking as a solution
Co-working spaces like Us&Co, provide a short-term flexible solution which offers freelancers, small or even larger established businesses the freedom to use the space when needed. Ranging from a day pass to a monthly membership.
Co-working can be a cost-effective and adjustable solution. Taking one or several fixed desks on a rolling month contract provides flexibility without any commitment or hidden costs.
Many co-working and serviced office providers also offer access to bookable meeting rooms. Us&Co's meeting rooms are equipped with high-tech audio/visual technology and fast WiFi, allowing easy video conferencing or in-person presentations. Each room undergoes a fogging service which is certified to protect from contamination and lasts up to 30 days.
---
Get in touch with Us&Co today:
London Stratford co-working space, 11 Burford Road
Phone us: 020 3102 4010
Email us: enquiries@usandco.com
London Monument co-working space, 7 Harp Lane
Phone us:020 3102 4010
Email us: enquiries@usandco.com
The Pros of Working from the office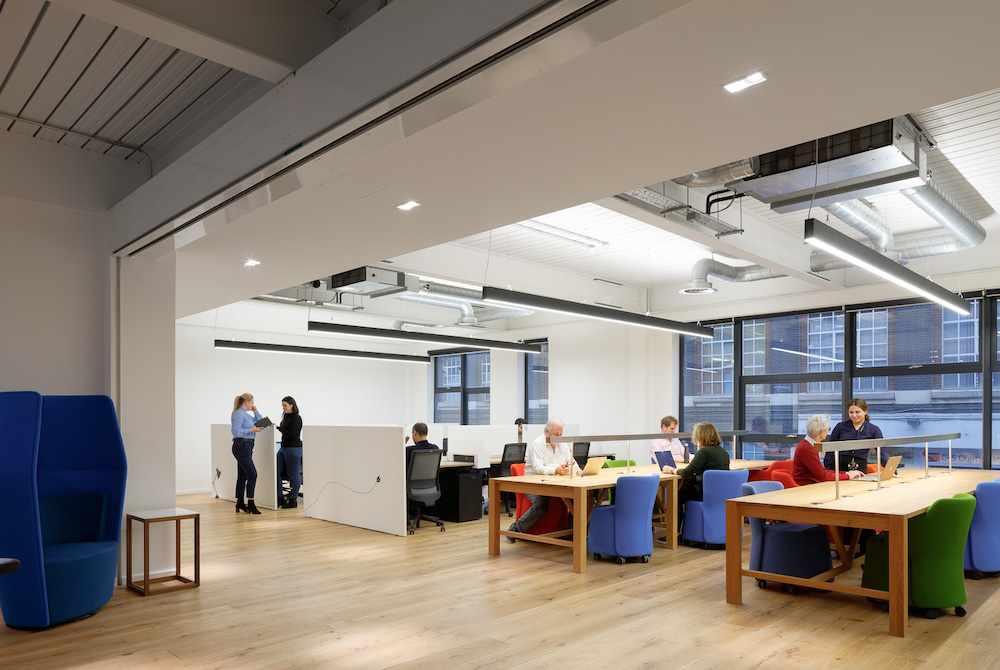 While remote working has become increasingly popular across all business sectors in the last five or so years, it remained a distant possibility for many pre-pandemic. With many companies unable or unwilling to facilitate working from home options, a proportion of the workforce inevitably looked on in envy at colleagues for whom the commute only had to be endured a couple of days a week. However, for the majority of the workforce, the challenges brought about by the global outbreak of Covid-19 quickly saw remote working become a reality.
After three or so months, we have all discovered what it is truly like to work from home and if it is at all it's cracked up to be. As the title suggests, this article endeavours to highlight the pros and cons of working from home. To facilitate a cohesive study, here at Us&Co we surveyed our members to learn exactly what benefits they found came with working remotely and what challenges they faced and attempted to overcome.
---
Recent studies indicate that the average commute takes Dubliners 30 minutes, with their London counterparts having a longer average commute of circa 80 minutes. With this in mind, it comes as no surprise that 85% of Us&Co members expressed that the main advantage to working from home is not having to commute to an office. The elimination of the need to spend up to two hours in a car or on public transport saves not only your invaluable time but can also provide some much-needed relief to your monthly expenses.
Moreover, when it comes to saving money, saving on your fuel costs or a train ticket isn't the only advantage of working from home. It can also help reduce your expenditure on work attire and eating out. Likewise, for parents, many can save on childcare costs.
However, there is an obverse side to the coin and there are associated costs with working from home which need to be considered. According to our survey, 78% of our members reported that they had to foot the costs of facilitating a proper working environment at home which included the purchasing of a desk, an ergonomic chair, and IT equipment such as a monitor and a router. These important necessities enable an efficient and productive working atmosphere. In addition, the increased reliance on electricity and broadband at home add to these expenses at the end of each month. As a result, we find that many remote workers tend to use co-working spaces such as Us&Co which delivers a fast and reliable internet connection, comfortable workstations and complimentary beverages all for a reasonable price on a flexible contract.
---
A conducive working environment requires, at the very least, a fast and reliable internet connection. No more so when working at home as it can be quite isolating; as such, consistent communication between team members and managers is vital to keep abreast of changes and developments in the business. While this can occur via the usual platforms (emails, phone calls and video conferencing), this is subject to a stable internet connection. However, those working at home reported that their internet connection was unreliable causing a drop in quality in audio and visuals during meetings.
Despite the alternative ways of staying connected online, many people found that they missed the community of working in an office environment. Us&Co members felt that video conferencing was a poor alternative, with 55% saying that they preferred face to face meetings as it facilitates a better team dynamic and enhances collaborative working. Furthermore, 67% found it challenging to overcome the lack of social interactions which come with working from home.
We find this is no less true for those junior members of staff who invariable gain invaluable knowledge and skills while working in close proximity to more experienced colleagues. On-the-job training is an essential practice for any employee and it stands to reason that new employees in many industries will fall victim to being inadequately trained while working from home. This can lead to poor job performance and increased levels of work-related stress which will inevitably leave them feeling undervalued and can cause them to search elsewhere for progression and development opportunities.
Even though working from home can be isolating, there have been several studies which suggest that it can be beneficial to productivity levels. This was attributed to the fact that home workers put in more minutes per shift, owing to the elimination of commutes and shorter lunches. This, however, plays a part in some remote workers having increased stress levels as they tended to finish work later. This correlates with our survey which indicates that 46% of Us&Co members found it difficult to switch off at the end of the day. The physical separation of home and office, though a traditional one, has very real benefits for our mental health and anxiety levels.
---
Distractions, be they in the office or at the home, have an impact on productivity levels. Actions as small as changing your workstation have been proven to boost productivity. However, having the space to facilitate a change in a workstation isn't generally possible for the majority of homeworkers as they tend to be resigned to one room. Confining oneself to a single room for hours at a time can have adverse effects; as such, having the option to move around freely while at work can greatly increase job satisfaction and performance. Us&Co prides itself on being able to facilitate this space by designing, decorating, and furnishing its centres in-line with the most up to date occupational psychology in order to create a quiet professional environment. While working from home can eliminate many typical office distractions, such as noisy phone calls or water-cooler chat, our survey found that 45% of Us&Co members were more distracted by the pressures and noisy environments of their homes, thereby demonstrating an eagerness to return to the office.
With restrictions easing and businesses slowly beginning to reopen, we can undoubtedly expect to see a change in attitude towards a return to the office. This is even more true for those who have understandable concerns surrounding Covid-19. In that regard, our survey indicated that only 39% of Us&Co members were anxious to return to the office. As a serviced office and co-working space provider, Us&Co understands the need to prioritise the health and safety of our members and to alleviate any concerns they may have. Therefore, Us&Co have been pro-active in implementing measures in our buildings to help prevent the spread of Covid-19 and to safeguard the health and safety of our members. Inevitably, many companies will have to stagger their employees' reintroduction into their offices while also trying to juggle reconfiguring their spaces with the running of their businesses. Us&Co is endeavouring to resolve these concerns for our members by helping to prepare offices for social distancing and strict hygiene practices.
---
If you are looking for a new office or coworking space for you and your team why not contact the sales team at Us&Co:
London Stratford Private Offices & Co-working space,
11 Burford Road Stratford E15 2ST
Phone us: 020 3031 3535
Email us: enquiries@usandco.com
London Monument Private Offices & Co-working space,
7 Harp Lane EC3R 6DP
Phone us: 020 3031 3535
Email us: enquiries@usandco.com
Ten Things all Professionals Should Master in 2020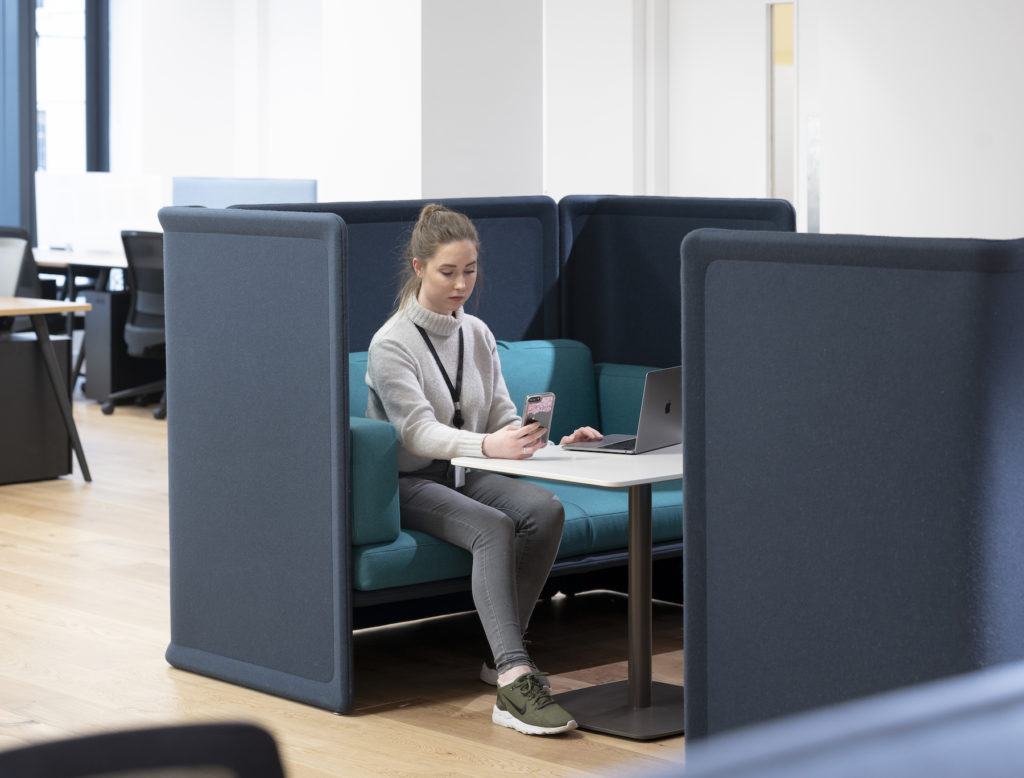 Here are 10 solid and achievable goals that should be on your list to master throughout 2020, to make it the best year yet for your professional development.
It can be easy to lose your creative sparkle once your daily workload begins to build. Many begin to push their blogs to one side, give up on writing that book or pop their paintbrush down for a little longer than they should. However, having a daily time slot where you can unleash your inner creativity will help clear your head, putting you in a better frame of mind for the day. You never know, you may also create something wonderful. Only time will tell.
A picture can often speak a thousand words, and in this ever-growing visual world having the knowledge on how to create simple designs and images will make your life a lot easier. Even if you only master the basics on how to tweak or pull together small designs this year, it will put you in great stead for the coming years also. Why not get started with some help from this article? http://lifehacker.com/5753459/learn-the-basics-of-photoshop-in-under-25-minutes
Regardless of the type of environment, you work in there's no denying that a good working knowledge of Excel will make it easier. From keeping track of your finances to creating daily reports, having in-depth knowledge of Excel is a vital tool that every professional should master. To help you get started, take a look at this article http://lifehacker.com/how-to-master-microsoft-office-excel-1767973710
Having the right team around you can make or break for many professionals, and one thing that is vital to master is hiring the right candidate. While many enlist specialist teams' help with the recruitment process, knowing how to correctly hire for yourself is the best way to ensure you will be left with the best team. Knowing what you require from a candidate and picturing how they'll fit within your team is essential for employee retention and general peace of working within your business.
Success is different for each professional but having a clear vision of what you class as success and how you would measure it is extremely important. Take some time to consider what you would class as professional success and look at a variety of ways you could measure it. Once you feel comfortable with one form of measurement, stick with it. A clear measuring tool will give you a great indication of the direction in which you're heading.
Whether it's taking on board feedback you've been given, factoring in changes in your chosen career or even just making a note of advice from family and friends. Set aside your emotional responses and take a step back to really absorb information from others in your life. Listening is an important part of communication, and often one of the toughest things to master.
Not only is skill-sharing a way to help you develop professionally, but it also helps other people grow. Many of the skills we've learned and developed have been honed through the help of others and being able to share skill sets and learn from others is a key cornerstone for professional success. Co-working is a great way to share skills in a relaxed and comfortable environment.
With lives getting busier and work demands growing, it can often feel like there aren't enough hours in the day. Not only should you be working on ensuring all work is complete promptly, you should also focus on ensuring your work/life balance is equal. Remember, if you have a dedicated desk with Us&Co you have access to your space 24/7, allowing you to plan your days perfectly.
https://www.usandco.com/latest-news/2016/11/24/productivity-hacks-to-make-better-use-of-your-time/
Many of us depend on our computers for our day to day lives, not to mention to thrive in our chosen business areas. Learning a handful of keyboard shortcuts will not only make your life easier but also help you amaze at your next board meeting. Here are some to get you sorted: http://www.laptopmag.com/articles/best-keyboard-shortcuts
When you're your own boss, it can often feel like saying no is a big faux pas and that you should be grabbing every opportunity that comes your way with both hands. However, saying yes too often can cause more problems than it will solve. Learning to say no occasionally will help ensure that you can manage your time better and help you focus on the items that truly matter.
Tackling each of these steps throughout the year will leave you ringing in 2021 ready to tackle anything the year has to throw at you.
---
If you are looking for a new office or coworking space for you and your team why not contact the sales team at Us&Co:
London Stratford Private Offices & Co-working space,
11 Burford Road Stratford E15 2ST
Phone us: 020 3031 3535
Email us: enquiries@usandco.com
London Monument Private Offices & Co-working space,
7 Harp Lane EC3R 6DP
Phone us: 020 3031 3535
Email us: enquiries@usandco.com