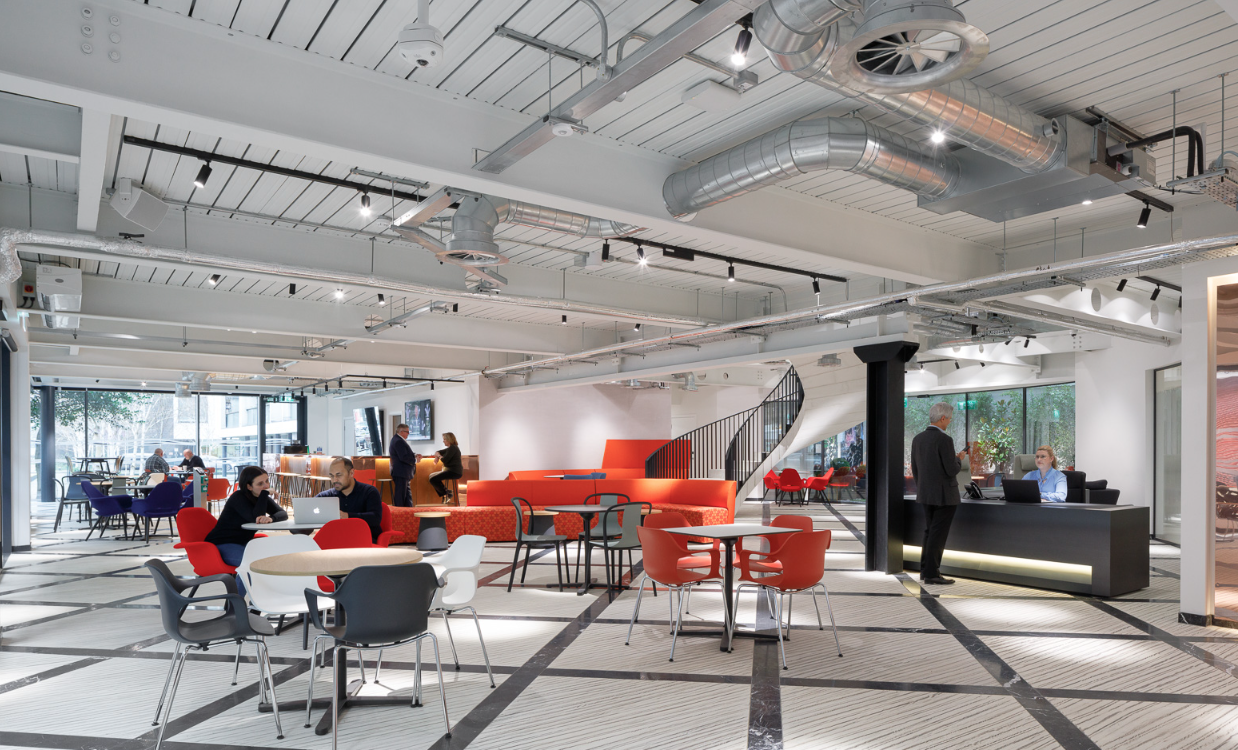 Have you been looking for working spaces in Stratford, London, for your business?
Stratford has become a booming centre for business in London. With a diverse range of businesses already taking up residence in East London, including Cancer Research and the British Council, Stratford provides an inspiring space for businesses and freelancers alike.
What has Stratford got to offer?
Since the London 2012 Olympics, Stratford has flourished. Between meetings, you can take a walk through Queen Elizabeth Olympic Park, or pop over to Stratford Shopping Centre for a post-work drink at Roof East. Or if you want to see some of the best views Stratford has to offer, you can take a slide down the ArcelorMittal Orbit, the UK's tallest metal sculpture.
Coming from afar? The Gantry or The Stratford Hotel are a short distance away, making for an exciting morning commute through East London. After breakfast on your way to the office? Stop in The King Eddie for a Full English to power you through those busy working days, or head over to Here East's Breakfast Club.
All of this and more is right on the doorstep of Us & Co's Stratford-based office building. Central offices are few and far between but are a luxury that Us & Co has to offer. 
Flexible Working Spaces
If you're looking for an office to rent in Stratford that provides a range of options for your business, Us & Co has a variety of working spaces to suit all of your needs. Whether you are looking for a coworking desk, a full-time private office, or a meeting room for the day, Us & Co Stratford has something suitable for everyone.
Some companies prefer a private office for their business, and Us & Co are happy to provide one. Our offices can cater to a range of sizes, whether you need five desks or fifty, we have something for you.
Just starting out or freelancing? Embrace our productivity inducing coworking desks which can provide both privacy and networking opportunities. Mingle with other companies that may benefit you and your business.
Only need a desk for the day? Consider one of our day passes, perfect for a drop-in. Or purchase a bundle of day passes if you only need a desk for a limited number of days per month.
If the modern office spaces aren't enough, the amenities may sway you. With free superfast Wi-fi, freshly ground coffee, and Full Air-Conditioning, what more could you ask for? A club space is available for all of our members to use as a fantastic breakout area. There's also an on-site support team to help with any queries that may arise.
High-tech Meeting Rooms
Will your business need a lot of room for meetings? We offer meeting rooms from £15 per hour, equipped with you really can't go wrong. 
Perhaps you only need a small space for interviews? Us & Co Stratford has a three-person meeting room perfect for your needs, including an HD Screen for sharing presentations.
Or maybe you need something a little larger? Our fourteen-person boardroom offers the latest in AV technology, as well as a screen that doubles as a whiteboard, ideal for large meetings and presentations.
Located a short walk from Stratford station, our meeting rooms can be booked by the hour, full day or half a day, giving you all the time you may need to brainstorm.
Conference Suites
Us & Co Stratford offers a modern conference suite that is adaptable for a range of meetings, conferences and events. With complimentary Wi-Fi, this space can accommodate between 24 and 72 people for either a full or half day.
The ground floor conference room can be rearranged into four different layouts and capacities to suit your needs. Floor-to-ceiling windows let in all the natural light you might need.
There is a large breakout space next door, offering refreshment stations and the potential to book out the two adjoining meeting rooms if needed.
Environment, Sustainability and Wellbeing
As a London-based, large building, we are aware of our impact on the world around us. Whilst we aim to provide the best possible working environment for our customers, we also aim to provide the best possible care to the environment around us. 
With the goal to become Carbon Neutral by 2030, we have been working hard to reduce our use of single-use plastics, as well as installing the latest equipment for energy efficiency. 
All of our furniture has been sourced responsibly, and with longevity in mind.
Wellbeing is a key factor to those at Us & Co, which is why all of our buildings are supplied with newly filtered air and large windows to provide natural light whenever possible. 
We also provide wellness social events for our members, which include Yoga or Pilates classes that have been organised by our building teams. Cycling to work with your own carbon footprint in mind? We have bike storage on site.
Transport
Being in East London, our Stratford office is close to many different transport links. 
Just a minute's walk from our doors will find you at Stratford High Street Station, where it is only a potential fifteen-minute DLR to Canary Wharf or thirteen minutes to City Airport. 
Stratford Station is approximately a six minute walk from us, leaving you an eleven minute tube ride from Bank Station, or nine minutes from London Liverpool Street Station. If you're intending to catch the Eurostar, it is less than twenty minutes by train.
Stratford International is fifteen minutes from us, allowing you a quick walk before catching your train.
For buses, it is just a fifteen minute walk over to Stratford City Bus Station.
We provide bike storage and showers for any cyclists that may wish to use our exemplary office spaces.
With all of this in mind, we pride ourselves on offering the best for our customers.
If you are looking for the best offices in Stratford then look no further! Get your team together in this collaborative space, for some forward thinking. Find out more by contacting our team.